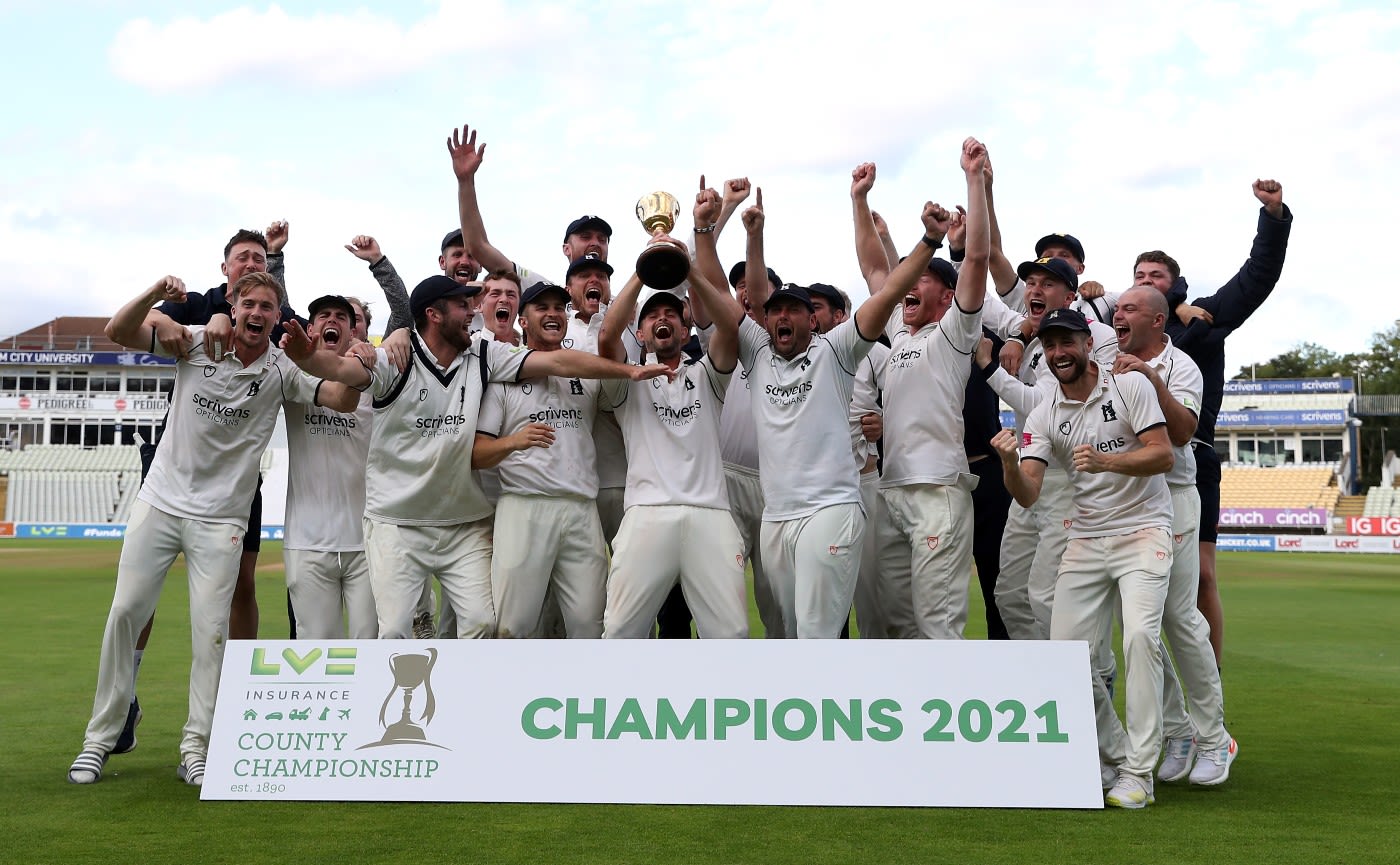 News
Nottinghamshire in Division Two as 2019 promotions for Lancashire, Gloucestershire and Northamptonshire confirmed
The LV= Insurance County Championship will return to a two-division structure from next season, reverting back to the split that was due to come in before the disruption caused by the Covid-19 pandemic.
The decision, voted for by the first-class counties after discussions with the ECB, means that Nottinghamshire will go into Division Two next year – despite finishing third overall in 2021 and missing out on the title by a handful of points – and the 2019 promotions of Lancashire, Gloucestershire and Northamptonshire will stand.
There will be ten teams in Division One and eight in Division Two,
a decision that was agreed in 2018
, with each county playing 14 games. A seeding system is to be implemented in Division One, where the two additional teams will make for an asymmetric fixture list.
A switch back to two divisions had been widely anticipated after two summers in which Covid had forced restructuring. Last year was the first in which the Championship was not played since World War 2, with the Bob Willis Trophy – featuring three regional groups and a final at Lord's – taking its place in a truncated calendar.
In 2020, the teams were organised into three conferences, playing for qualification into one of three divisions. The winners of Division One, Warwickshire, claimed the Championship pennant and then played Lancashire for the Bob Willis Trophy.
One proposal that was put to the counties was for the
conference system to remain for another year
– however, a vote on the matter last month was pushed back, with the expectation that it would not achieve the 12 votes required to pass.
The question of contesting the Bob Willis Trophy in 2022 has not yet been resolved. The ECB remains in discussions with Willis' family about the best way to continue to celebrate the former England fast bowler's life, with the event having been used to raise money and awareness for prostate cancer, but it is unlikely to return as an end-of-season fixture after the anticlimax of
Warwickshire's innings victory over Lancashire
, which was the first time first-class cricket had been played in England in October since 1864.
County Championship 2022
Division One: Essex, Gloucestershire, Hampshire, Kent, Lancashire, Northamptonshire, Somerset, Surrey, Warwickshire, Yorkshire
Division Two: Durham, Derbyshire, Glamorgan, Leicestershire, Middlesex, Nottinghamshire, Sussex, Worcestershire