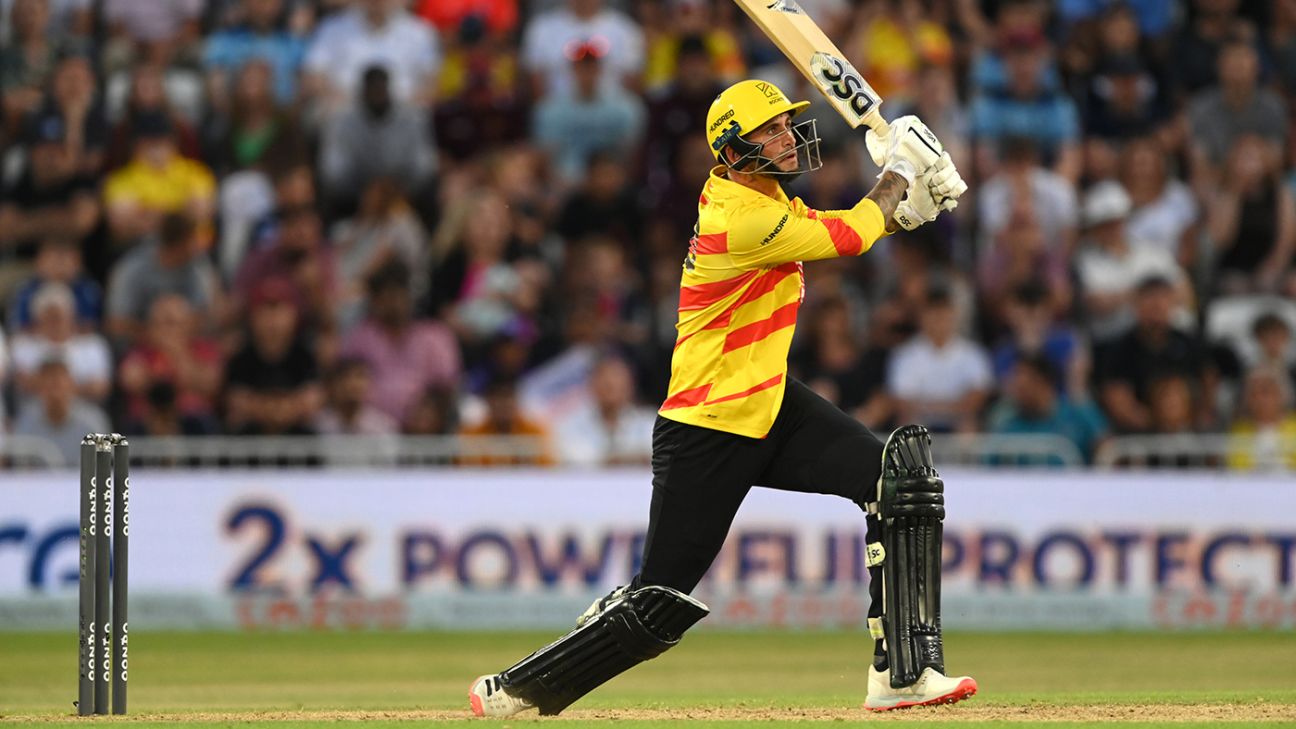 News
"Every tournament I play is always a chance for me to keep reminding people I'm still an international quality player"
Alex Hales admitted that the buzz around the ground on a remarkable night of Hundred action at Trent Bridge was reminiscent of his England days, after his tortoise-and-hare innings of 40 not out from 34 balls sealed an extraordinary two-wicket win for Trent Rockets against Northern Superchargers, while serving a reminder of his enduring white-ball credentials.
Chasing 133 for victory, Hales had ground along to 16 from 25 balls when his former England team-mate Ben Stokes dropped a six over the boundary at long-off to reignite a flat-lining run-chase. And, with the momentum suddenly in his favour, Hales did not look back, striking a four and two further sixes from his final eight deliveries to romp to victory with six balls to spare.
"It was a really scrappy, ugly win," Hales said afterwards. "I guess that's a sign of a good team because we had our backs to the wall a lot throughout that game and we still managed to come out on top.
"I always felt that if I was in at the end, we'd have a chance," he added. "It was a fairly difficult pitch to bat on, not your typical Trent Bridge pitch, but you can always catch up at the end there, with the fast-scoring outfield and smallish boundaries. I just tried to hang in there and take it as deep as I could.
"It was a combination of a few things, really," he added of his sluggish start. "I found a lot of fielders early in my innings, then I didn't have much of the strike, and then when I did, we'd lose a few wickets so I just couldn't really get settled at the crease.
"They've got a high-class spin attack, and they are difficult to score against, so it was fairly ugly to start with. But [Matt Carter], Rashid [Khan] and Lewis [Gregory] also played some really important roles to rescue the team and take the scoreboard pressure off me. They were great cameos from those three, and it helped set up a scrappy, decent win."
Though Hales did well to cling on while wickets were tumbling around him – Trent Rockets were 58 for 6 from the same number of deliveries before Rashid's 25 from 12 balls helped to reignite their prospects – the contest turned on the 77th delivery, which Hales had nudged for a single to mid-off until an intruder on the field caused the umpire to call dead ball.
Hales duly climbed into the rebowled delivery from Adil Rashid, only for Stokes – right back on the rope at long-on to spill the chance and transform the game.
"It was so lucky," Hales admitted. "I don't think I've ever seen Stokes drop a catch in practice or in a match, so for that to happen was obviously a huge moment in the game, and one I'm pleased to have made the most of.
"I wasn't necessarily looking to take down Rash, but I felt that the ball was in my area to hit a boundary and obviously, with that slice of luck, it worked in my favour."
On the dead-ball incident, Hales insisted that all parties had agreed about the outcome after a pitch invader had caused a distraction during the initial delivery.
"Someone came on the pitch, and Stokesy was saying he had obstructed the fielders' view, and it was all fine with me," Hales said. "We just agreed there would be a dead ball and I'd go back on strike. It was all civil and we were all in agreement with what should happen. I think it was a fair outcome."
"Every tournament I've gone to, I've performed well and shown people that I'm still that level of a cricketer"

Alex Hales
Although the match was not as boundary-laden as the Hundred organisers would have hoped for at a venue like Trent Bridge, Hales – who has been banished from the England set-up since he failed two drugs tests in the lead-up to the 2019 World Cup – believed that the quality of the contest was high and that its intensity was not far removed from the international standard.
"That's been the chat in the group," he said. "It's felt close to international cricket, and the buzz around this ground in the last few days has been unbelievable. It genuinely had that feel, almost of an international fixture, and the quality of cricket has been really good as well – the condensing down to eight teams has really lifted the standard. It's still early days in the tournament, but so far it's felt really competitive and really enjoyable."
As for whether his display would send a message to England's selectors, more than two years on from his World Cup sacking, Hales added that that was his aim every time he took the field.
"Every tournament I play is always a chance for me to keep reminding people I'm still an international quality player," he said. "I think the last two years I've done that. Every tournament I've gone to, I've performed well and shown people that I'm still that level of a cricketer, so that's all I can keep doing. If that chance comes along again, then great."
Andrew Miller is UK editor of ESPNcricinfo. @miller_cricket