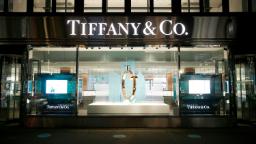 The two companies said in a joint statement on Thursday that they had modified the terms of their initial merger agreement, lowering the price per share that LVMH will pay from $135 to $131.50. The move now values the company at $15.8 billion, $400 million less than the $16.2 billion originally agreed upon. It also ends a legal battle over the deal.
LVMH
announced
in September that it would abandon its planned acquisition of Tiffany, which was expected to be the biggest luxury goods deal in history. Tiffany then sued LVMH in a Delaware court, leading to a countersuit from the French group.
"We are very pleased to have reached an agreement with LVMH at an attractive price and to now be able to proceed with the merger," said Roger Farah, the chairman of Tiffany, in the statement. "The board concluded it was in the best interests of all of our stakeholders to achieve certainty of closing."
LVMH CEO Bernard Arnault said that the new agreement was "balanced," and "allows LVMH to work on the Tiffany acquisition with confidence."
— This is a developing story and will be updated.